If you're reading this hoping so get some great craft ideas, then you might want to find another blog. I am definitely NOT the crafty mom.
I know a lot of moms (Robyn, Tina, and Amy, I'm looking at you!) who are crafty. They make bibs and picture frames and decorate cupcakes. They even macramé. I don't know what macramé is. I don't want to know!
I buy bibs and picture frames and cupcakes, but occasionally I am put in a situation whereby I must do something crafty. Often Baby Galen's school is the culprit, as they seem to think all moms can sew and bake and make fabulous themed wreaths to be auctioned for hundreds of dollars at Christmas time. Hello! That is why someone invented craft stores.
Other times I am at a museum, where the kids are supposed to do craft activities. Ha! Baby Galen inherited my lack of craftiness. She is always excited to start a craft and then quickly loses interest. Either that or the craft is too hard for her, although the sign will say ages 2+. Then I end up helping with the craft, and we have a butterfly that looks like this.
Or a house that looks like this.
But occasionally I do something sort of right. This summer I checked out a lot of kits from the library. These kits are designed to help parents and kids interact with books. One kit had a Curious George book and all the materials necessary to make a porthole. So Baby Galen and I (okay, mostly me) made a porthole. We were both proud of it, even if she kept trying to get in the plastic "glass" and eat the goldfish.
Are you crafty? Do you ever feel like the world expects you to possess a skill just because you're a mom?
---
Shana Galen, Multitasker Mama
I'm Shana G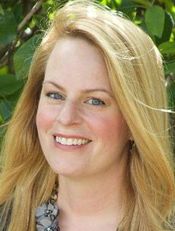 alen, AKA Multitasker Mama (and aren't we all?). I'm a wife, mom to a two-year-old daughter I call Baby Galen. My parenting motto is, "Keep moving. Don't pass out. Don't throw up." Or maybe that's my fitness motto? www.shanagalen.com