Raise your hand if you are a first-born or only girl? Yes, I'm raising my hand. I actually have an older brother, but he's eight years older than I am, and my little sister is 2 ½ years younger, which I am certain, were research to be done, would prove to be the perfect age for bossing around.
But then do first-born girls even need a reason or a younger sibling to be bossy? I was alarmed recently when Baby Galen's teacher at her preschool told me about my daughter's antics for the day. Apparently, Baby Galen had taken it upon herself to run the classroom. She was directing this kid to lie down and that kid to put his lunch away and so on. The teacher was laughing at how cute this behavior was and joked she should stay home and let Baby Galen run the class. I was thinking about what this sort of behavior held for the future.
No one likes bossy children. I was a teacher for years and dealt with many students who wanted to help me run my classroom. Some years I could have used the help, but that's another blog. There's really nothing that bristles as much as a young child telling an adult what to do. It's why, as parents, we use phrases like, "Say please" and "Watch your tone."
Somehow, Baby Galen had turned into a child who needed those phrases. And to my horror, a few days later, I heard her bossing her friends around. "Abby, you go over there. Sofia, you play chalk with me." I pulled her aside and told her that she had to be nice to her friends. She looked at me like I was crazy. I'm sure in her mind she was doing them a favor by ruling over them.
About five minutes later, my fears were somewhat allayed. Because poor little Abby told my daughter, "You play ballerina." Oh, thank goodness! My child isn't the only bossy one.
But she's still pretty darn bossy.

Any tips for curbing this bossiness? She's a very polite child, so the bossiness isn't intentionally rude. Can it be curbed or are little girls just naturally molded into little mommies?
——————————————————————————————————
---
Shana Galen, Multitasker Mama
I'm Shana G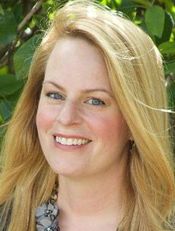 alen, AKA Multitasker Mama (and aren't we all?). I'm a wife, mom to a two-year-old daughter I call Baby Galen. My parenting motto is, "Keep moving. Don't pass out. Don't throw up." Or maybe that's my fitness motto? www.shanagalen.com